pantswarrior
Naturally the week of ACen, my job would dump a whole bunch of new stuff on me. Fortunately none of it is especially time-sensitive (in fact, two things were just proposals, one with the suggestion of setting up a meeting sometime in July), but still. I've been plugging away at the most time-sensitive one (financial aid forms), and have everything that they've given me so far updated except the two most tedious documents. Every year when I see the filenames for these two documents, I honestly cringe because "AAAUGH I HAVE TO DO *THOSE* AGAIN".
(And then on top of that, last year they eliminated one of the grant positions that was filled by one of the two people who vacated the part-time positions that L. and I got, and I felt bad about that because they could have still had a job if they hadn't vacated my position... and then today I just about had a heart attack when Mini-boss emailed me with a subject line of "I couldn't keep all the grant positions" and the email wouldn't open right away due to lag, and I panicked even after the thing FINALLY opened until I had read it all and remembered that my position is NOT a grant position, and what he was actually informing me and L. about was that the other person who had vacated our position was being let go this year. And this is a TERRIBLE idea, and I'd be upset about this even if there wasn't a measure of guilt too, because R. is made of awesome and does so much for the department, and losing her will leave a huge gaping hole... Mini-boss and Area Boss have been fighting to be able to keep her on even on a year-by-year basis, but people are being stubborn, and R. might not even WANT to stay after all this now.)
But I've got everything I can do for the job BUT those two files taken care of, so I'm taking a break to post about something much nicer: Bunnies!
I hadn't been posting too much about the kids, which is sad, because there's all kinds of cool stuff we've been learning about Bear as he acclimates to our household, and his disinterest in basil has caused me to better learn the tastes of our other buns as we try "stuff that is not basil" on the rest of them too (turns out neither Pepper or Dusty like basil all that much either), and then the dandelions blooming in our yard means that not only do we have pics of Bear on his first outing to the back yard, but Dusty is SO INCREDIBLY HAPPY now that I had to make an image macro commemorating his first taste of dandelions for the year:
Oh hey, and that reminds me, did I ever share this one of Bear looking extraordinarily grumpy?
...Anyway, I have mentioned in the past that Jasmine (the cutie in the current icon, smallest and oldest of our buns) does not get along with other rabbits. She has attacked every other rabbit she's been introduced to on sight. She's aggressive enough in general that she will nip my ankles if I don't bring her her dinner when she's used to getting it. But darnit, we would have a MUCH easier time of caring for our rabbits if at least a couple of them would get along, and she hadn't been introduced to Bear yet. So despite being kind of reluctant to expose such a sweetheart as Bear to her growling and biting and lunging, we got them into the neutral location of the library, and I held Jasmine still while Bear hopped around.
Well, she thumped some when he came over to have a sniff at her, but didn't try to break free and kill him, so that was something. And a little later, we held HIM still, and let her roam around the room to investigate stuff, eventually including him. And she thumped again, and hopped away. And that was all.
Extremely
undramatic compared to what I was expecting. So I dared to let them both run around the library without either being held...
Bear was very curious about Jas, and occasionally would hop over to check her out, and she'd thump and hop away. But this was instead of turning and lunging at him, so we allowed it to a degree, shooing him away every now and then so she would have some time to calm down. And since he wasn't insisting on either attacking or humping her, he was okay with being shooed away. In fact, eventually we had to move to a smaller area because they would just be off in their own corners doing their own thing, so we tried switching who was living in which cage a couple times, to get each other used to being in each other's spaces, then blocked off part of the hallway and set them up in there for a closer meeting. Still no incidents, so we moved them into my room.
That was a week ago. The first night, I separated them while I slept, because Jas was still kind of spooked. The second night, I didn't bother.
There has been not a single incident of violence between them. The worst that happens is that sometimes Bear wants to hump her, and she hops away, and he follows, and she keeps hopping away until he decides he's not THAT interested. Once this went on long enough that I decided Bear needed a time-out, so I put him in the cage and closed the door while Jas had the run of the rest of the room. And you know what Jas did? She came over and sat right next to the closed cage door, settling down nose-to-nose with Bear through the bars. This is
after
he had been chasing her around the room for like ten minutes straight.
I'm constantly waking up or walking in to find them sitting together, maybe one of them grooming the other, maybe getting a drink or munching on hay side by side. It is so amazingly cute, and given Jasmine's temperament and behavior towards other rabbits up until now, downright
miraculous
.
Initially I was thinking if they showed any promise at all as a bonded pair, I'd just give them a few minutes together every day for awhile, gradually increasing, maybe move them into adjacent rooms with a gate between so they could see each other without being in direct contact. Probably this would happen at some point after ACen, and in a few months, maybe we could even leave them together for awhile when supervised.
Now we're leaving for ACen tomorrow, and I'm really thinking we
shouldn't
separate them. They've done great with or without supervision, and the way Jasmine went to sit with Bear when he was having his time-out for annoying her seems to indicate that they've already formed something of a bond. I don't want to mess that up and then have to try to recreate it... I mean, just look at this cuteness (captured via my 3DS, because it's usually closer than my real camera):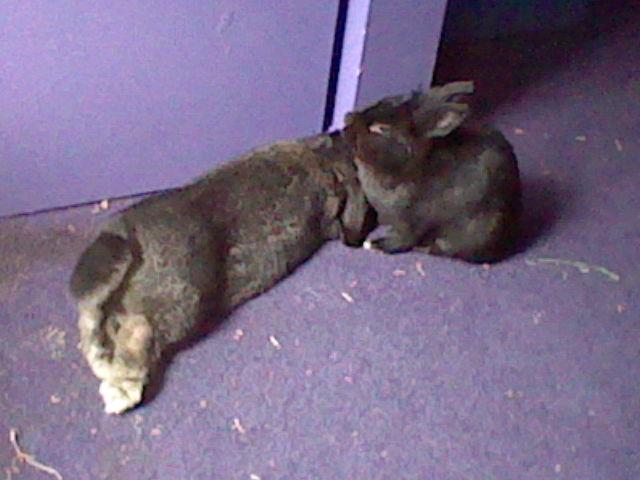 And speaking of photos, have some unrelated photo updates!
Since I posted the pics of my purple-streaked hair, I have also dyed
red and green streaks
into it as well for rainbowy hair! :D I still want to add more color... almost looking forward to this stuff fading so I can try some different things.
New character design was released a week or so ago for Kotetsu, for Tiger & Bunny - The Rising.
Naturally I threw it together for ACen.
XD